Monday, December 06, 2010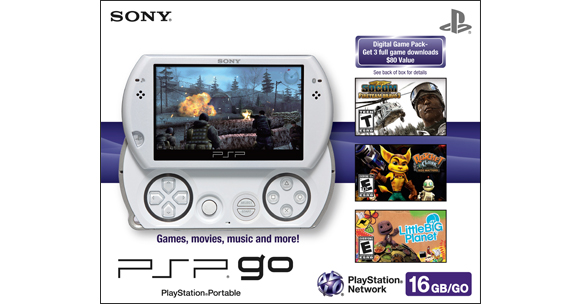 Want the latest, greatest on-the-go entertainment system PLUS three of the hottest new game titles? Purchase a PSP®go between 6/1/10 and 3/31/11 and receive a game voucher worth $80 for LittleBigPlanet™, Ratchet and Clank®: Size Matters and SOCOM: FireTeam Bravo 3 via email. Once you purchase the PSP®go, getting the emailable game voucher is easy. If you already have a PlayStation®Network account, just sign into your account using your PSP®go or if you are brand new to the PlayStation® family, just register for the Network via your new PSP®go. Once you sign in a game code will be sent to the email address associated with your PlayStation®Network account within 7-10 business days.



Instructions for redeeming a Promotion Code ("Code") on your PSP®go system:
Step 1: Open an account on the PlayStation®Network ("PSN") (or use an existing account).
Step 2: From the PSN icon on the Xross Media Bar, select 'Account Management'.
Step 3: Select 'Redeem Codes'.
Step 4: Enter Code. Please note that the Code is case sensitive and must be entered exactly as displayed.
Step 5: Once the Code has been entered correctly, click 'Continue'. Once you accept the terms, you will be taken to the download screen.
Offer Valid from 6/1/2010-3/31/2011. Each code is good for one qualifying PSN account to redeem the entitlement to download LittleBigPlanet™, Ratchet and Clank
®
: Size Matters and SOCOM: FireTeam Bravo 3 for the PSP
®
go system via the PlayStation
®
Store. Code expires 3/31/2011. The approximate value of the code is $80.00 USD. Downloadable game voucher is only available to legal U.S. and Canadian residents with a PSN account who are 17 or older and purchase a PSP
®
go between June 1, 2010 and March 31, 2011. Email will be sent between 7-10 days of accessing the PlayStation
®
Network. Code is not redeemable for cash, cannot be returned for cash or credit, may not be used for any other purpose and will not be replaced if lost, stolen, or damaged.
For more news coverage, you can follow us on
Twitter
or become a fan on our
Facebook
page, we will keep you updated with posts over the web.
If you found this post useful, dont forget to click the +1 button =>
This entry was posted on October 4, 2009 at 12:14 pm, and is filed under
Game, PSP
. Follow any responses to this post through
RSS
. You can
leave a response
, or trackback from your own site.